Alaskan Cuisine often falls under the radar when it comes to the broader American food scene. However, it has so much to offer! The sheer diversity of the local food scene can be surprising to outsiders, but most locals know that they can rely on a varied, high-standards food & restaurant industry to fix their cravings! Thankfully, many industry insiders are doing what they can to get people to notice and change the way people can access the best Alaskan Cuisine.
This is definitely the case of Caribou360, our parent company who have always been passionate about great Alaskan fare. After more than one and a half year of intense development, "Alaskan Cuisine" has been finally released to the public and to reach out to people in the community. The concept is simple. It's really all about helping people find the best nearby eateries and restaurants, as well as enabling local food businesses to get discovered by tourists and a local customer base on our full responsive website and user-friendly mobile app.
Alaskan Cuisine comes packaged with powerful apps
In addition to that, the app also provides other useful features that add more flexibility. For example, people can use the platform to browse menus to get a better idea of what's available and place their orders directly. We've been working hard to bring a more "social" element to the Alaskan food scene, and "Alaskan Cuisine" is a good example of how new technologies can successfully connect people, and local vendors, resulting in a thriving community. If people eat out at the best local restaurants, they'll support the growing food scene and in turn the increased demand can lead to better quality standards for all!
Especially for restaurants we've build two more vital apps to make handling orders a lot easier, Alaskan Cuisine Driver and Alaskan Cuisine Remote.
Alaskan Cuisine Driver – Track your deliveries with live GPS
Whether you have a fleet of drivers or deliver orders yourself, Alaskan Cuisine Driver will transform the way you get orders to your customers. With our system, you can assign drivers to new orders or let us assign them automatically. Simply have your drivers connect to our app and wait for their next delivery. We'll provide all the order details and the fastest route, complete with live GPS tracking. There's no need to invest in an expensive navigation system or waste precious time scheduling deliveries.
Alaskan Cuisine Remote – Manage your orders and tasks on your phone or tablet
Our small, lightweight app lets you manage your orders for delivery, pickup or dine-in right from your smartphone or tablet. You'll receive real-time notifications to ensure a smooth process. Here's how it works: Once an order comes in, you can set the estimated delivery time right from your device and assign it directly to one of your drivers. You can also search for specific orders or customers, and view their transaction history in the app and even pause online ordering from your online menu.
One of the most striking aspects of "Alaskan Cuisine" is that it is a very inclusive platform. Not in the mood for traditional Alaskan classics? No worries. With "Alaskan Cuisine", you can also find other foods – from pizza to curries and other specialties influenced by cuisines from all over the world, anything goes! Ultimately, Alaskan Cuisine enables users to discover so much great food all around them, and it really brings a breath of fresh air when it comes to other "mainstream" food booking and ordering apps, because the user experience is much more engaged, and specifically tailored to the local market.
Enjoy a free trial for your first 6 months!
We're proud of our work, unfortunately we're not perfect but we're highly dedicated to further improve our website and apps as much as possible. Therefore, we would like to invite every restaurant, bar, food truck or diner in Alaska to test our services 6 months for free and help us discovering any issues we might have overlooked. This free trial wouldn't include any risk or commitment on your part, and your subscription would never renew automatically. If you decide you like our service, you can extend it for as little as $9.99/month. We want to give each restaurant, big or small, the opportunity, to focus on their business without having to pay horrendous fees to display their mouth-watering food and beverages online. We decided to only charge a minimum compared to other competitors on the market – and we're totally fine with that.
Alaskan Cuisine – Fast, reliable and user friendly
Alaskan Cuisine may look simple but it is very complex behind the scenes. We realized we need to focus a lot on performance and speed as we know some Alaskans, especially in remote areas, are struggling with a fast internet connection. Our focus was mainly on Google's PageSpeed Insights tool, where we scored a solid 95/100.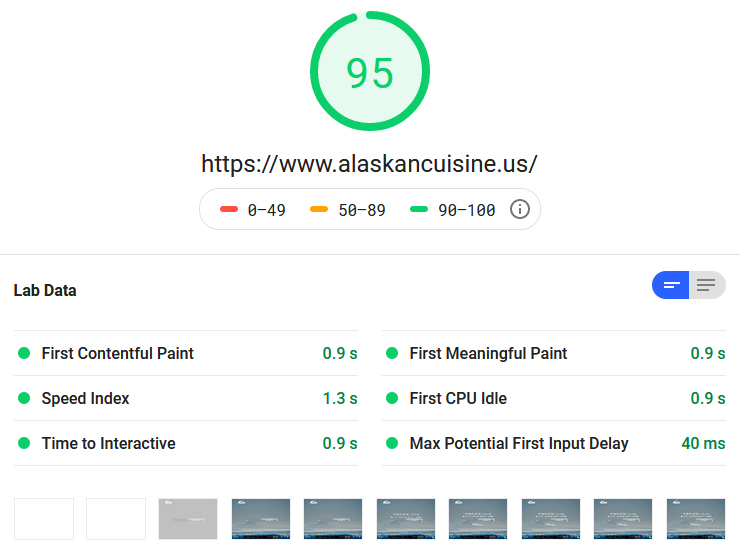 We also achieved almost the same result on dareboost with a 94%.

Furthermore, according to our testing and response time, alaskancuisine.us is currently even one of the fastest websites in Alaska! We're happy with the result but we keep on working hard in the future to get even better and faster.
Follow us on Twitter, Facebook, tumblr or LinkedIn to receive updates on what is going on at Alaskan Cuisine and join us on our journey becoming Alaska's best online food ordering platform.
Find out more about Alaskan Cuisine
www.alaskancuisine.us
www.caribou360.com